A Unigloves Guide
VINYL GLOVES:
WHAT YOU NEED TO KNOW
Introduction
As one of Europe's leading manufacturers of disposable safety gloves, we understand that the daily wearing of gloves is a fact of life for many workers.
Protecting the hands from chemicals, pathogens, irritants, and other potentially hazardous materials is of paramount to concern to workplaces. What's more, the wearing of gloves is an important part of protecting against infection, cross-contamination and the damage of products, materials, work surfaces and more.
For decades, vinyl gloves have been a preferred choice for many workplaces, and even homes, due to their relatively low cost and the many protective benefits they offer. Here, we take a closer look into the properties, benefits, and applications of vinyl gloves, to help you choose the most appropriate safety glove for your application today.
Disposable vinyl gloves
Vinyl gloves are an incredibly popular type of disposable gloves, both for domestic and industrial use. Not only are they very affordable, they're also suitable for protecting hands in a range of applications. Disposable vinyl gloves are particularly popular in workplaces where the regular donning and removal of gloves is required, such as in food handling roles, personal care, domestic work, hairdressing, dentistry and more.
Made from PVC (polyvinyl chloride), vinyl gloves are treated with a plasticiser to make them more elastic. The end result is a waterproof glove which is resistant to a range of low-level chemicals, alcohols, biohazards (including pathogens found in bodily fluids), detergents, and more.
When selecting a disposable safety glove for your workplace or domestic application, it is important to take into account the testing and industrial standards those gloves are subject to. Some of the most common European standards to keep in mind are the following:
EN1186, which deems the gloves safe for contact with food,
EN455, the European medical gloves standards, and
EN374, the chemical and micro-organism penetration resistance standard.
Each of these standards help determine the suitability of disposable safety gloves and whether they are fit for purpose in your particular application. Be sure to consult the manufacturer's guidelines before purchasing any disposable safety glove, to ensure that it meets your needs.
Choosing the Right Disposable Vinyl Gloves
For more detailed information, take a look our blog post
Read more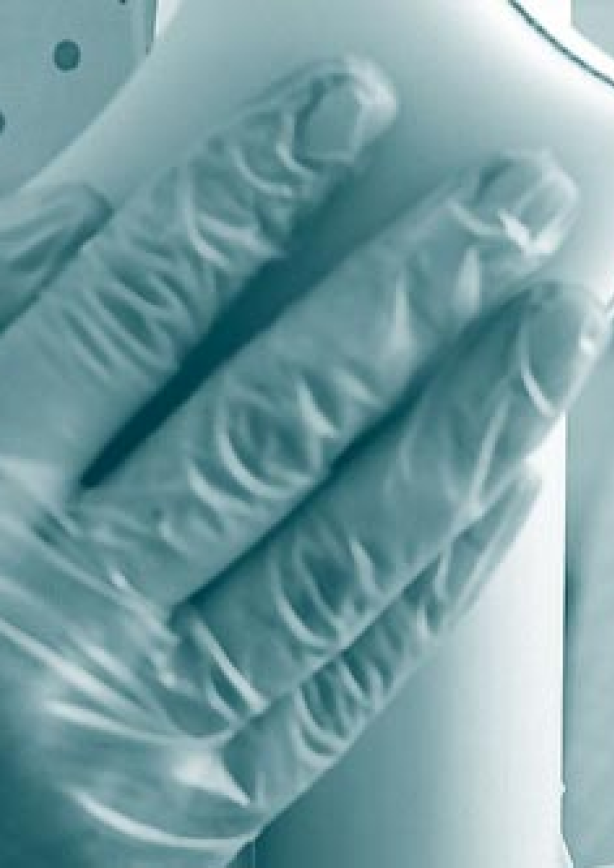 Latex vs nitrile vs vinyl gloves

Rubber gloves are available in either natural or synthetic varieties, including (but not limited to) latex, nitrile and vinyl. Each of these materials offers users different benefits, and of course, each has its limitations. When deciding upon a disposable glove material for your application, you should take into account the types of hazards in question, the levels of comfort and dexterity required, any allergies that might be of concern, and the cost-effectiveness of each material.
Latex gloves
Latex gloves are made from natural rubber latex (NRL), and contain latex proteins. The inherent properties of NRL include high levels of elasticity, resistance to a range of chemicals, and a waterproof barrier for hands. Because of the second-skin feel of latex gloves, they have traditionally been preferred in roles which require a high degree of dexterity such as medical examination roles, for example. However, due to the prevalence of latex allergies (or Type I sensitivity), many workplaces are moving away from latex gloves and towards synthetic options such as nitrile and vinyl gloves.
Nitrile gloves
Nitrile gloves are an entirely synthetic rubber glove and a great alternative to latex. They are generally more robust than most other disposable glove varieties and are protective against more corrosive and hazardous chemicals than their latex and vinyl counterparts. They tend to be less elastic than latex gloves and offer lower levels of dexterity and touch sensitivity. However, as manufacturing processes advance, nitrile gloves are becoming more comparable to latex in their levels of comfort and the touch sensitivity they provide. Due to the raw materials used, and their manufacturing, nitrile gloves are often more expensive than both latex and vinyl gloves.
Vinyl gloves
Whilst vinyl gloves are generally less robust than both latex and nitrile gloves, they are an excellent alternative to latex, where allergies are a concern. They are also free from chemical accelerators, making them suitable for use by those with either Type I or Type IV sensitivity. As they are slightly less elastic than latex gloves, and less expensive than their alternatives, they're also often preferred in environments where regular donning and removal is required.
What are vinyl gloves used for?

Traditionally, vinyl gloves have been most commonly found in food handling and processing roles, as they're inexpensive, and easy to don and remove. However, their practical uses extend far beyond these kinds of roles. Although they tend to be less elastic than latex gloves, and less robust than nitrile varieties, they are still a worthwhile consideration for many a workplace or domestic situation. Vinyl gloves provide an effective barrier against bodily fluids (helping with infection control and reducing the risks of cross-contamination), low-level chemicals, detergents, and alcohols. This makes them suitable for use in:
Non-fatty food preparation
Certified to EN1186, our vinyl gloves are safe for contact with food, with the exception of oily or fatty foods. They are a cost-effective solution for roles that require regular removal and disposal of gloves, including customer-facing food service roles and even emergency services.
Painting and printing
Vinyl gloves are an excellent choice for painting and printing roles, where paints, dyes and other colouring agents are present. They not only provide an effective barrier against paints and dyes, they're also easy to replace. This helps to avoid cross-contamination and to protect work surfaces, materials and products from staining.
Cleaning and care work
Vinyl gloves are an ideal choice for low-risk cleaning tasks that don't involve contact with hazardous materials such as stronger chemicals, but which require prevention against contamination (from body fluids, for example).
Vinyl gloves are also a popular choice for domestic use, such as cleaning around the home, and in other fields including dentistry and dental hygiene, manufacturing and assembly roles, janitorial work, care home work, hairdressing, local authority work, and more. Their use is becoming more widespread, both domestically and industrially, as allergies become of a concern for many users. Accelerator free and latex free, they are an excellent low-allergen solution to latex or nitrile gloves, for a variety of applications.
How are vinyl gloves made?
Although they tend to be less robust, less elastic, and less form-fitting than other glove varieties, vinyl gloves offer a range of important benefits over alternatives such as latex and nitrile gloves. Vinyl gloves are some of the most affordable disposable safety gloves on the market, and as such, are a popular choice for applications which require a high turnover of gloves and where there is a low risk of exposure to more hazardous materials such as strong chemicals or micro-organisms. And yet, despite their popularity in certain industries, there is still often confusion surrounding the question 'how are vinyl gloves made?' and what makes them the most appropriate solution in many workplaces.
Vinyl gloves are a synthetic glove manufactured using a polymer material called polyvinyl chloride, or PVC. During the manufacturing process, a plasticiser is added to the PVC product to make the material more flexible and suitable for use in producing disposable safety gloves. Importantly, vinyl gloves are free from both latex and the chemical accelerators widely used in the manufacturing of nitrile gloves. This makes them an excellent low-allergen solution for many workplaces, especially for those where Type I and Type IV sensitisation (including latex allergies), dermatitis, or sensitive hands are a concern.
The materials used to manufacture vinyl gloves are relatively inexpensive and are also less robust than alternatives such as latex or nitrile, when it comes to protecting hands against tearing and punctures, hazardous chemicals, or biohazards. Because of this, vinyl gloves are often considered to be a 'budget' option for disposable safety gloves in the workplace. However, as well as being cost-effective, vinyl gloves are also a versatile solution for a wide variety of applications where low-level hazards are a factor. These include protecting hands and wrists from bodily fluids, detergents and cleaning chemicals, paints, dyes and more. Vinyl gloves are also food safe, which makes them a very popular choice for food processing and handling applications.
Of course, protecting worker's hands is just one factor to consider when selecting a safety glove for the workplace. Other factors to consider are that the gloves are comfortable, easy to don and remove, and durable enough for the task at hand. 
Recommended Gloves
Our Unicare vinyl gloves, are made using our unique low-friction inner polymer coating, which allows for smoother donning in the absence of powder (which can contaminate the working environment and cause skin allergies). They feature a tapered wrist for a better fit and beaded cuffs for added strength and resistance to tearing. These latex-free, chemical accelerator-free, and powder-free gloves are one of our most popular glove varieties, and an excellent way to help reduce the likelihood of allergic reactions in your workplace.
Take a look
Allergic reaction to vinyl gloves

Potential allergic reactions are an important risk to keep in mind in any workplace where safety gloves are required to be worn. Type I (latex allergy) and Type IV sensitivity (delayed sensitivity) and contact dermatitis are just some of the considerations that must be made when selecting the appropriate disposable safety glove for workplaces.
While latex and nitrile gloves both pose an allergy risk to wearers and those they come into contact with, an allergic reaction to vinyl is almost unheard of. As vinyl gloves do not pose the risk of latex allergies, and are also chemical accelerator free, they are unlikely to cause the most common of allergic reactions to safety gloves. There is still, however, the possibility of contact dermatitis caused by the moisture present within the glove (from sweat, for example), or less commonly, the risk of a reaction to the cornstarch used in powdered gloves.
At Unigloves, we produce both powdered and powder free glove varieties, to ensure that you can make both the safest and most suitable choice for your workplace or domestic application.
How Likely is an Allergic Reaction to Vinyl Gloves?
For more detailed information, take a look our blog post
Download
Powder free vinyl gloves
Powder is generally added to gloves to help with donning and removal, making them less likely to tear. However, powder can be a potential hazard for some workplaces; most commonly those where powder particles pose a threat to work surfaces or materials, or where powder particles become airborne and increase the risk of allergic reactions (most notably, to latex particles). For this reason, powder free gloves may be preferred. At Unigloves, we offer both powdered and powder free glove solutions. Our powder free vinyl gloves are treated with a low-friction inner coating to reduce the risk of tearing during donning and removal.
Why Choose Powder Free Vinyl Gloves?
For more detailed information, take a look our blog post
Download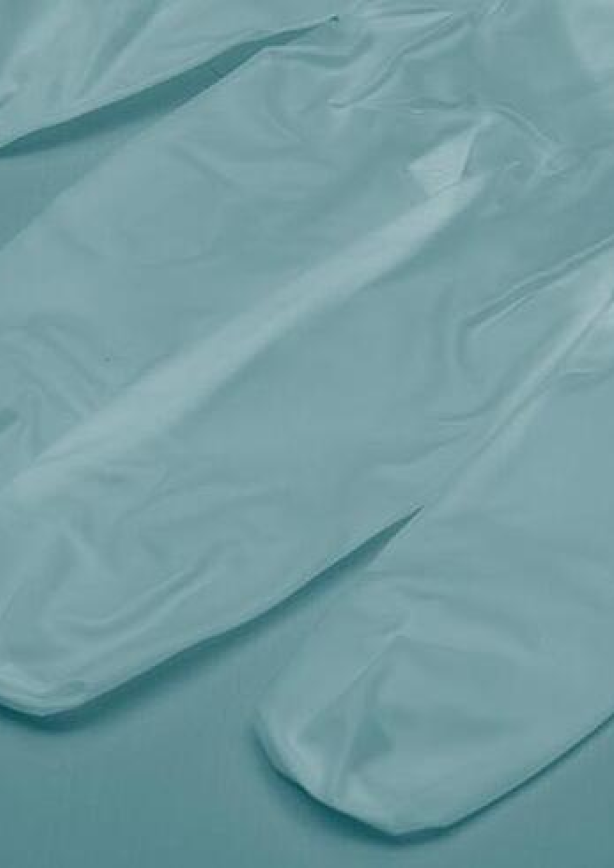 Recommended Gloves
Our powder free Unicare vinyl gloves are not only versatile and incredibly comfortable to wear, they also offer protection against some of the most common hazards found around the home and in the workplace, including protecting the hands against cleaning products and detergents, creating a barrier against biohazards, and keeping hands free from dyes and paints, for example.
Take a look
Vinyl nitrile gloves

At Unigloves, we're committed to constant innovation. For over 30 years, we've been developing and manufacturing high-quality safety gloves to suit an almost limitless number of applications. From vinyl, to latex, to nitrile, and more, our gloves are versatile, robust and of exceptional quality. In keeping with our dedication to bringing our clientele the most innovative safety glove solutions, we've developed our unique Unitrile gloves: An advanced blend of vinyl and nitrile, to offer users the best of both worlds.
Why choose our hybrid vinyl nitrile gloves?
For more detailed information, take a look our blog post
Download
Recommended Gloves
Our Unitrile gloves are manufactured using a blend of vinyl and nitrile materials, to offer the added strength and protective qualities of nitrile gloves, whilst providing the levels of comfort traditionally provided by vinyl gloves. Not only are they free from latex and powder, these gloves are food safe, medical grade, and offer wearers a high degree of touch sensitivity and dexterity. Their heavy weight construction is more robust and long-lasting and offers users a greater level of protection and durability than traditional vinyl gloves. Their beaded cuffs provide added strength during donning and also assists in reducing liquid rollback.Our Unitrile gloves have quickly become one of our most highly sought-after gloves for our clients in the food industry, healthcare and hygiene sectors, cleaning industry, veterinary practices, and more.
Take a look
Summary & next steps
As a world-leading manufacturer of disposable gloves with over 30 years of industry experience, we are dedicated to supplying our clients with a wide range of high-quality and cost-effective safety glove solutions.
Our vinyl gloves are designed to be incredibly versatile, whilst being supremely comfortable to wear; thus protecting your workers' hands against a potential workplace hazards, as well as the daily rigours of regular safety glove wear.
Get in touch with our team or peruse our product guide to find the perfect vinyl gloves for your application today.