Nitrex 241NFX
Blue / Black, sandy nitrile palm coated, extended thumb crotch, light duty gloves
Sold as a bundle of 10 pairs (6 bundles per full case)
Product information
Featuring Unigloves NitreGuard® Technology - awarded to gloves achieving a high-performance in the straight blade cut test. Unigloves NitreGrip® Technology provides an advanced surface treatment for an assured grip
Medium weight, 13 gauge seamless liner is lightweight and breathable delivering maximum F rated cut protection. At the same time providing good dexterity and flex to reduce hand fatigue
Extended reinforcement along the index finger and thumb offers greater protection than standard thumb crotch reinforcement when handling abrasive material and increases the life of the glove
The sandy nitrile palm coating is resistant to oils and grease acting as a physical barrier. In addition, the sandy nitrile gives exceptional grip in dry, wet and oily environments
Suitable for use in: Automotive, Automotive Aftermarket, Assembly, Metal Fabrication, Railway Maintenance, Glass Handling, Construction, Local Authority, General Maintenance and Recycling
The Nitrex line up by Unigloves has been expertly constructed to provide exceptional protection against numerous high risk hazards in the workplace. These hazards include cuts from sharp or abrasive objects, hazardous chemicals, hot and cold temperatures, mechanical impact risks and more. Renowned for their robust construction and versatility, Nitrex gloves are a reliable hand safety option for a variety of industries and applications.
User Benefits:
Featuring Unigloves NitreGuard Technology
Featuring Unigloves NitreGrip Technology
13 gauge seamless polyester liner with HPPE and steel
Cut resistant level F
Sandy nitrile palm coating
Reinforced nitrile extended thumb crotch
Nitrex 241NFX, part of our premium range of cut resistant work gloves, is built to endure even the harshest conditions. Equipped with Unigloves' NitreGuard Technology, these gloves boast the highest grade of cut protection (cut level F), for their superior resistance against sharp and abrasive materials. Unigloves' NitreGrip Technology means these gloves offer a secure grip in dry, wet, or oily environments, making them an ideal solution for any high risk tasks your workers face.
Nitrex 241NFX gloves feature a medium weight, seamless polyester liner combined with HPPE and steel, allowing breathability while ensuring maximum cut protection. They offer excellent dexterity and flexibility, effectively reducing hand fatigue during extended use. The sandy nitrile coating resists oils and grease, forming a protective barrier for hands. Meanwhile, the reinforced extended nitrile thumb crotch offers additional protection for when your workers are handling abrasive materials, thus enhancing the gloves' durability and delivering ongoing protection, day after day.
Sectors and Applications

Nitrex 241NFX gloves by Unigloves are a highly effective safety glove solution for all manner of applications. Thanks to Unigloves' signature NitreGuard and NitreGrip technologies, these cut level F gloves provide unmatched protection against abrasion cuts, tears, and punctures while assuring optimal grip in dry, wet, or oily conditions. The medium weight seamless cut resistance liner ensures comfort, breathability, and reduced hand fatigue, making these gloves a perfect glove for extended use in even the most demanding applications.
The Nitrex 241NFX nitrile coated gloves are ideally suited for sectors such as:
• Automotive
• Automotive Repair
• Construction
• Engineering
• Glass Handling
• Recycling and Waste Management
• Industrial
• Railway Maintenance
• Transportation
• Utilities
These nitrile coated work gloves are perfect for applications such as:Glazing and glass handling:
With their superb grip and high cut resistance, the Nitrex 241NFX grip gloves are the go to choice for handling glass and glass components. The sandy nitrile coating ensures superior grip, safeguarding hands while working with delicate and potentially hazardous glass materials.
Sheet metal handling:
Nitrex 241NFX cut resistant gloves provide the highest level of protection when dealing with metal sheets. The sandy nitrile coating enhances grip, making these gloves a safe option for handling sharp edged materials such as sheet metal.
Automotive repair: Nitrex 241NFX gloves deliver excellent protection and grip for tasks in automotive repair, where a high level of cut and abrasion resistance is crucial. The sandy nitrile coating offers excellent grip even in wet or oily conditions, ensuring hands stay protected during all stages of automotive repair processes.
Bottling:
Nitrex 241NFX gloves offer exceptional grip and dexterity for bottling applications. These sandy nitrile coated gloves are perfect for bottlers, offering superior grip and cut protection for handling machinery and packaging materials. The level F cut resistance and extended reinforced thumb crotch of Nitrex 241NFX gloves ensure that workers' hands are protected from all sharp and abrasive materials during the bottling process.
The range of applications for our Nitrex 241NFX cut level F gloves is extensive. From managing glass to handling waste, repairing cars and other machinery, handling sheet metal, and more, Nitrex 241NFX is not your average safety glove. Offering robust protection, outstanding value, and superior defence against the risks your workplace presents, the Nitrex 241NFX is the perfect safety solution for your
Colour
Black, Blue
AQL (Freedom from Holes)
Palm Thickness (mm)
Finger Thickness (mm)
External Surface
Microroughened
Design
Hand specific
Cuff Type
Knitted
Sterile
No
Latex-Free
No
Powder-Free
Yes
Accelerator-Free
No
Silicone-Free
No
Phthalate-Free
Yes
Tested for Use with Chemotherapy Drugs
No
Anti-static
No
Touchscreen compatible
No
Gauge
13
Liner Material
HPPE, Polyester, Spandex, Steel
Coating Type
Nitrile (Sandy)
Coating Coverage
Reinforced
Food Approved
No
NitreGrip®
Yes
NitreGuard®
Yes
Sanitized Treated
No
Hydrophobic
No
Reinforced
Yes
Impact Protection
Featuring Unigloves NitreGuard Technology
Unigloves NitreGuard Technology is awarded to gloves achieving a high-performance in the straight blade cut test
Featuring Unigloves NitreGrip Technology
Unigloves NitreGrip Technology is a new, advanced surface treatment that provides an assured grip when working in dry, wet or oily conditions. The technology reduces the force needed to grip, reducing hand fatigue
13 gauge seamless polyester liner with HPPE and steel
Medium weight seamless polyester liner with HPPE and steel is breathable but still delivers maximum cut protection. At the same time providing good dexterity and flex to reduce hand fatigue
Cut resistant level F
Protects to the maximum EN ISO cut level F (≥30N), ideal for use in areas with a high level of cut hazards
Sandy nitrile palm coating
The abrasion level 4 sandy nitrile coating is resistant to oils and grease acting as a physical barrier. In addition, the sandy nitrile gives exceptional grip in dry, wet and oily environments
Reinforced nitrile extended thumb crotch
The reinforced nitrile thumb crotch offers extra extended protection when handling abrasive material and increases the life of the glove
Plastic free packaging
Sustainable bundle belt packaging
PROTECTIVE GLOVE AGAINST MECHANICAL RISKS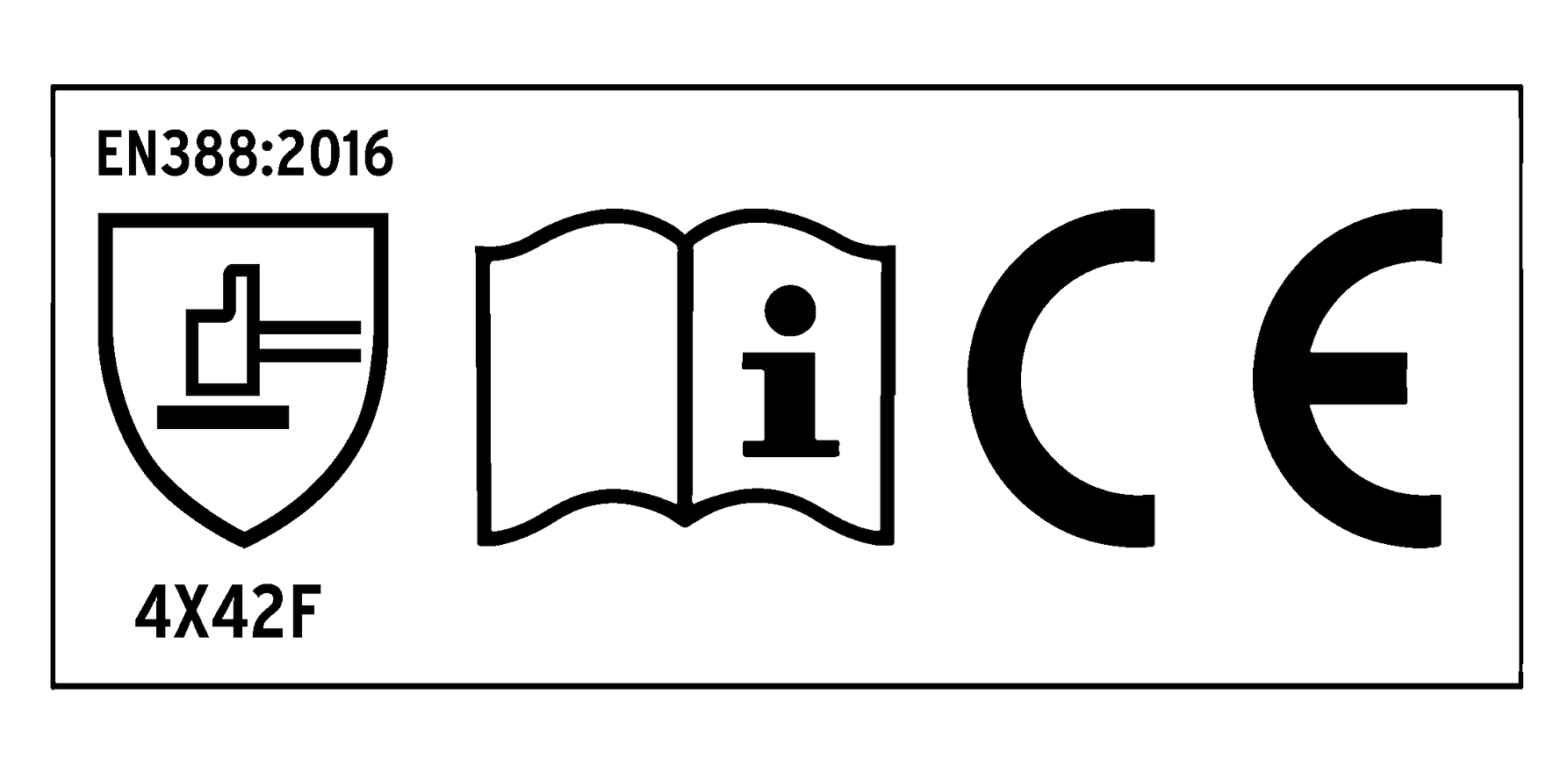 Gloves have been tested in the palm area
Fit for special purpose (if size does not meet minimum length requirement)
| | |
| --- | --- |
| Model | Description |
| 241NFX | Supported glove with sandy nitrile coating  |
| Sizes | 6-7-8-9-10-11 |
MECHANICAL RISK EN 388:2016 
| | | | | | |
| --- | --- | --- | --- | --- | --- |
| Test | 1 | 2 | 3 | 4 | 5 |
| Abrasion resistance | 100 | 500 | 2000 | 8000 | / |
| Cut resistance | 1.2 | 2.5 | 5 | 10 | 20 |
| Tearing resistance | 10 | 25 | 50 | 75 | / |
| Puncture resistance | 20 | 60 | 100 | 150 | / |
| Resistance to vertical cut | A | B | C | D | E |
| Size (Alpha) | Size (Numeric) | Code |
| --- | --- | --- |
| XXL | 11 | 241NFX-11 |
| S | 7 | 241NFX-07 |
| M | 8 | 241NFX-08 |
| L | 9 | 241NFX-09 |
| XL | 10 | 241NFX-10 |
| XS | 6 | 241NFX-06 |
For more information please see the Warehouse Data Sheet.